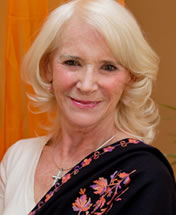 Ingrid Henzler
Ingrid Henzler is an author, a poet, a God Seeker, a passionate woman who feels deeply about life and love. She was born in Germany and has travelled extensively in Europe and the USA. At age of 27 she lived one year in India and came to know the teaching of Paramahansa Yogananda and his classic book, The Autobiography of a Yogi, which transformed her life and brought her back to a deeper understanding of Christianity. Ingrid has a degree in Education and speaks German, English and Italian. She wrote meditation exercises, and organized for seventeen years retreats for young people with the theme "The encounter with God."
Since early childhood she has been devoted to the lives and stories of saints. She was powerfully drawn to the homeland of St. Francis of Assisi. For many years she has lived in Italy where she writes, studies and offers guided tours. Ingrid leads groups and visits the convents and shrines, the pastoral landscapes, sacred known and unknown places, and the colorful streets of the charming cities of Umbria and Tuscany.
Ingrid can be seen walking the cobblestone streets past flower-covered balconies driven by her own reflections and deep love of God as the Beloved. She stands at the shores of the lakes and oceans and gazes into the mystery of the beauty of the rising sun and the deep midnight of the moon and stars.
Ingrid has created videos of sacred places, and they are sensitive and moving portraits of spiritual charm, often accompanied by classical music and her own narrative and her mystical poetry.
As so many of us Ingrid walked through valleys of sorrow and compassion while caring many years for those in despair. God has turned her mourning into dancing as she finds expression for her creative insight. She shares all of who she is through her guided pilgrimages, her joy, her poetry, her pictures, as well as her love for music and nature.
Words of Ingrid
I myself believe in God, the power of love, of positive thinking, and prayer. I have been practicing meditation over 40 years.
My life in Assisi and St. Francis' words have sustained me and changed my life. I cared for dear family members, who suffered for many years with disease. From the first to their last days, they slowly faded from this world. I had to walk through dark valleys and often I felt my days were tinged by a veil of sadness.
I am grateful to testify that by practicing the words of St. Franics I learned to say "yes" to the flow of life and behold beauty every where. I would love to paraphrase and share these words of St. Francis:
If you accomplish your deeds which are bitter for you, in loving service for the suffering Christ, then that which was bitter to you will be turned into sweetness of soul and body.
---
Behold the divinity in all people...

Be gentle in thoughts... words... deeds...
---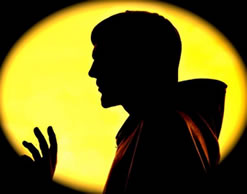 A prayer dedicated to St. Francis
Let me walk... with your feet
let me touch... with your hands
let me see... with your eyes
let me listen... with your ears
let me speak... with your mouth
let me feel... with your heart
compassion and love
the desire and fire
to follow you, my Lord
---
Please Note: Ingrid is available for speaking engagements